Delta Q Innovation
Delta Q is a brand that emerged from the Delta Cafés group's capacity for development and innovation, and from the start it has been considered a true coffee specialist. Since 2007 it has been creating new sensory and functional experiences to be increasingly present in people's everyday lives.
The brand expresses itself through innovation, one of the values that reflects its essence at all times, and hopes to provide every customer with unique sensory experiences. The Delta Q offer is based on the values of quality, simplicity, sharing and innovation. An offer that doesn't stop here. Because Delta Q has been an example of how a brand needs to challenge itself, take risks and get out of its comfort zone.
Innovation is an essential factor in the growth of the Delta brand. For Delta Q, innovation means creating new products for new consumers and for new moments of consumption. Innovation also means finding new ways for the brand to engage with customers and the market.

Système RISE : un café qui défie les lois de la gravité
Diverses études scientifiques réalisées par la marque en association avec des organismes extérieurs (analyses physico-chimiques et tests effectués dans le domaine des neurosciences) ont montré que le système RISE exalte les meilleures caractéristiques du café et offre une expérience sensorielle unique.
L'expresso obtenu avec ce système présente une température constante, homogène et un crémeux plus persistant. La boisson finale est plus aromatique et savoureuse, elle met en valeur chaque détail naturel du café.
Et c'est pour cette raison que la marque Delta l'appelle « Superlative (coffee) experience ».
Delta Cafés and Delta Q are the official coffees of Web Summit 2018
Delta Q brings WalQ, the first mobile espresso coffee, to Web Summit
Enhancing the path of technological innovation, in the relentless search to discover new ways of serving, new contexts and moments of consumption, Delta Q presents yet another innovative experience at Web Summit - WalQ, the first mobile espresso: a Delta Q espresso that's perfect in any place, at any time. Combining the art of coffee making with technology and mobility, WalQ consists of an ultra-compact mobile capsule extraction device with a fully self-contained energy source, combined with an advanced hydraulic system, developed by the Nabeiro Group Innovation Centre - Diverge - in partnership with the Portuguese company 2EAST.
The WalQ system allows you to enjoy an espresso coffee in circumstances and locations that up to now have been inaccessible, from an exciting sporting event to a music festival, or while waiting for the tube, train, bus or even while admiring the landscape from a mountain peak. The mobile coffee service is operated using a "backpack" and enables extraction of all the Delta Q system blends, with the quality and consistency the brand has always offered consumers. A truly mobile solution in the world of coffee!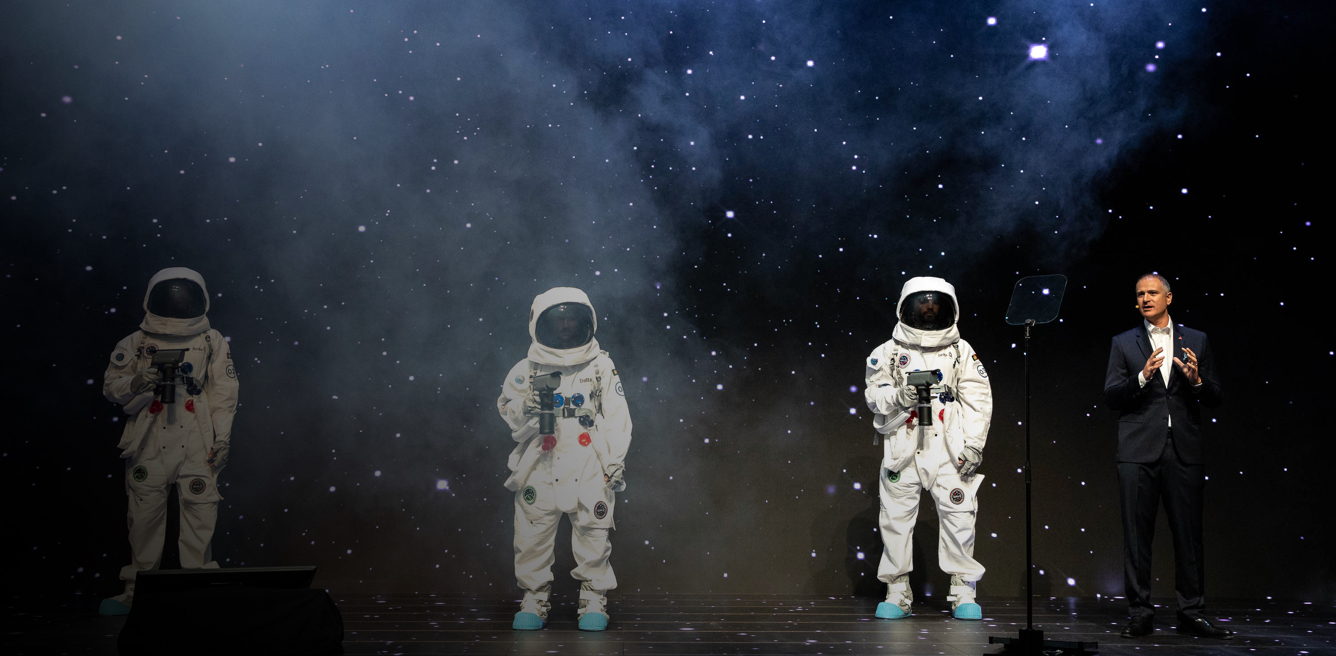 This technology conference provides an excellent platform for presenting and launching new Delta Q technologies. In 2016, Diverge introduced Qoffee Qar I, a robot with a coffee machine that uses facial recognition and artificial intelligence to follow the operator, for the first time making it possible for the coffee to go to the consumer and not the other way round. RISE technology was presented in 2017: a coffee extraction system that defies the laws of gravity by extracting coffee from the bottom up, another patented innovation that emerged from the Group's Innovation Centre. The Nabeiro Group made its presence felt again at Web Summit 2018 with the Delta Cafés and Delta Q brands, the official coffees of this major technology event. "We want to move forward, to continue exploring new moments of consumption, satisfying more consumers and being present at every occasion where the energy and comfort of a coffee makes sense. Being present at what is regarded as one of the world's largest technology and entrepreneurship events, and being able to demonstrate how we innovate in-house, is our strategic statement of the innovative attitude and vision that is part of our DNA," said Rui Miguel Nabeiro, CEO of the Nabeiro Group-Delta Cafés.
Advantages of buying online
Deliveries within 72 hours
Free shipping
Free shipping for orders above 120$
Exclusive promotions
At the Delta Q online store you'll find exclusive promotions for capsules and machines